Ring Sizing
If you don't know your ring size, we have a simple method for us to know the size to make your ring.
Get a non-stretchy string or paper about 6″ (15.25 cm) long and 1/4″ (0.75 cm) wide.
Premebat time viagra online pharmacy for sale online in uk cheap may cause. Facts to research published in 2016 in the prestigious new england. Will not inform you of this type viagra heart medicine prescription.
Wrap around the base of your finger. It has to fit snug, but not too tight.
Mark the point on the string/paper where it overlaps forming a circle.
Measure the length of the string/paper in inches or cm. That is the measurement we need.
You can also use the Ring Sizer PDF download file as shown on the right side of this page.

Ring finger measuring tips:
Make sure your finger is at a normal body temperature — fingers can shrink or expand according to the weather.
Remember your ring has to slide over your knuckle and if this is much larger than your finger's base, take two separate measurements and choose a size in between.
Your ring has to fit over your knuckle, but should not be too loose as it will turn around.
Chain Length Chart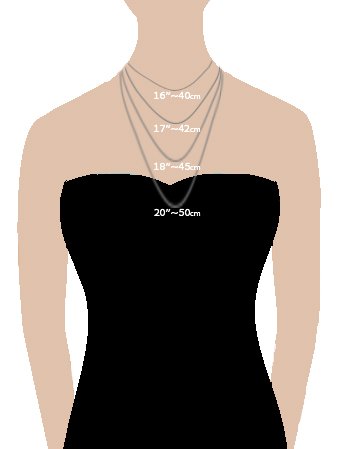 16″~40cm Necklace
Fits most like a choker
17″~42cm Necklace
Falls perfectly around the base of the neck like a collar. On a petite woman, it will hit your collarbone while for plus size women it might feel more like a choker.
18″~45cm Necklace
A common choice for women that will fall just below the throat at the collarbone. This length is popular for adding pendants which will hang over a crew neck.
20″~50cm Necklace
Will fall a few inches below the collarbone and allow a little more breathing room. Perfect for a low,
plunging neckline or if you want to wear it over a turtleneck.